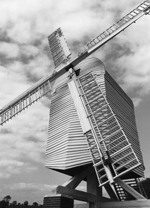 As a model maker I have been fortunate to be involved in many high profile advertising campaigns and, with over 25 years experience in the industry, it's almost inevitable that you'll have seen examples of my work on television, in print and on just about every high street in this country and beyond.  The thumbnail images below represent just a tiny selection of this work and each can be viewed in greater detail simply by clicking on it.
If you'd like additional information, or further images of other work that might be more relevant to a project that you're planning, then please don't hesitate to contact me and I'd be delighted to help.
Aside from advertising my model making has also included architectural projects, commissions for museums, prototype production, exhibition display and model restoration.  If you'd like to find out more about this creative work then you can do so by clicking on the model windmill image to the right.
Click on any image to enlarge